Commissions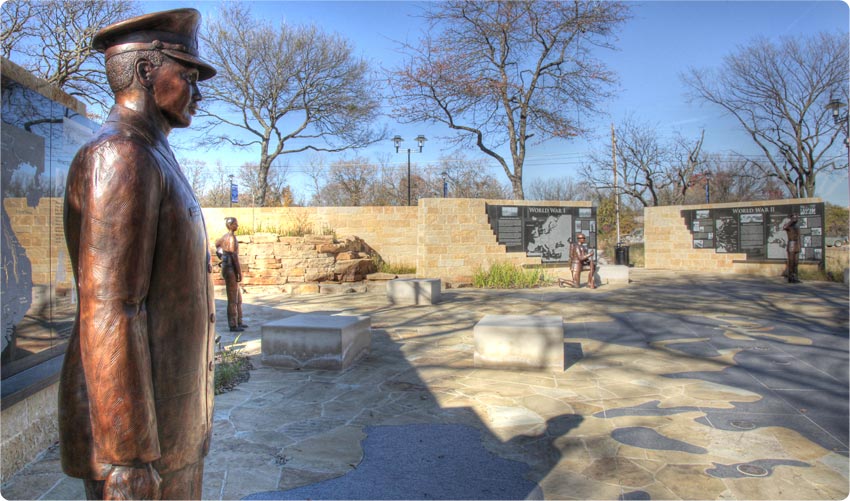 Veteran's Memorial Park
Irving, Texas

The Irving Veteran's Memorial Park Committee was formed for the planning and creation of the Irving Veterans Memorial Park.  The authorization to proceed was given by the Mayor of the City of Irving in June 1998.  The Park's dedication ceremony occurred on May 17, 2009.
The Irving Veteran's Memorial Park serves as a tribute to all military veterans.  The Park covers all wars and police actions that the United States has been involved since Irving was incorporated. 
The Park contains a Commemorative Wall of Reflection which displays the names of those Irving Citizens who lost their lives while in service to their country.
The Park takes visitors through a 10' high wall into the main plaza where five larger than life bronze military statutes stand as sentinels among the many elements of the Park.  On Memorial Day 2010 the Irving Veteran's Memorial Park Committee unveiled a bronze statute of the American Bald Eagle.  With its wings outstretched, the eagle sits a top of a brick wall at the Park.
Mr. Paul Tadlock is the sculptor who is responsible for all of the Park's beautiful statues.  The statutes' amazing life-like representations help add the Park's majestic, yet reverent tone.  Words alone cannot provide due justice to Mr. Tadlock's creations.  I have been very honored to work with Mr. Tadlock in constructing the Park's statutes, and I look forward to the potential opportunity to work with him in the future as the Irving Veterans Memorial Park Committee continues to add new additions to its award-winning Park. 


John C. Danish
President of the Irving Veteran's Memorial Park Committee