Commissions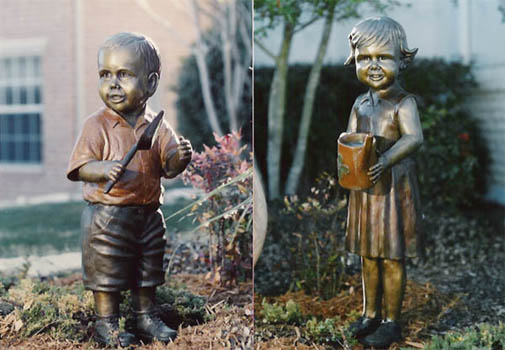 Grandson & Granddaughter
Commission for Lifesize Sculpture
TO WHOM IT MAY CONCERN:
I phoned Mr. Tadlock in May 1995 to see if we could work together to create two wonderful surprise birthday bronzes for my husband. Although I had not personally met Mr. Tadlock, his portfolio convinced me that he could competently handle the job, so he and I begun the project the following month.
Mr. Tadlock met with my husband's two young grandchildren and their parents, and thereafter took over one hundred photos of the children from which he created the two bronzes. Over a six month period, Mr. Tadlock and I communicated in secret on the design and completion of the bronzes. As promised, Mr. Tadlock produced the bronzes on time and they are absolutely divine portrayals of the children.
I highly recommend Mr. Tadlock for the design, creation, and timely completion of your custom bronze art work.
Very truly yours,
Beverly K. Leonard